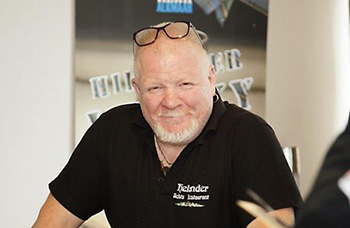 Hello, let me introduce myself... I'm Wullie Macmorland and since 1989 owner, chef and whisky go to man from Scottish Restaurant Hielander in Alkmaar the Netherlands.
My love of whisky began at the tender age of 14 when after a days shooting, the father of my hunting mate gave two VERY cold teenagers a wee dram to warm them up, now well over 40 years later i can honestly say that in the Netherlands there are not many people with so many years experience in the whisky world.

In 2001 I won the prestigious Scotch Single Malt Whisky Award for the best whisky bar in the Netherlands.
Since 2009 we are on the Whisky Magazines Great Whisky bars of the world list, and in 2015 we were a top 5 nominee for the Drammie Awards - the Worlds best Whisky Bars.

In April 2016 I am very proud to announce that I will be innaugurated into the Order of
"KEEPERS OF THE QUAICH" in Scotland.
In 1995 I, together with 4 friends formed the BEN NEVIS WHISKY CLUB, now one of the oldest and largest whisky clubs in the Netherlands, to this day I am the Chairman of the BNC, which organises monthly tastings, Scotland trips and bottles yearly their own single cask malts.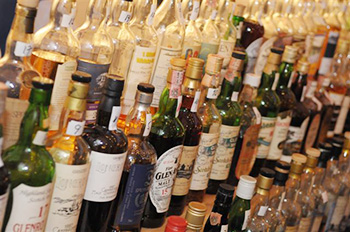 In 2011 I started the HIELANDER WHISKY FESTIVAL, a yearly whisky fair that attracts almost 3000 visitors every 2nd weekend in February. The festival is held in the "Grote Kerk" the "Big Church" in Alkmaar. (www.hielanderwhiskyfestival.nl)

Over the years I have been lucky enough to be able to build an extensive network consisting of virtually every whisky importer in the Netherlands and a very large amount of producers in Scotland therefore making it possible to aquire almost any whisky imaginable at this moment in time I have more than 2500 in stock!
I can supply your business, club, friends group a Whisky Nosing & Tasting to fit almost any budget, here in the restaurant or at a location of your choice, please feel free to contact me for a quote for....

- nosing & tastings
- blending sessions
- lectures
- whisky dinners
- festival catering
- burns suppers.

Our restaurant has 52 seats but we have supplied external tastings for up to 500 people.
We can also supply decor and/or live music to create that typical Scottish atmosphere in your own location.
If you think that HIELANDER could help you plan that special party please contact me at Hielander.whisky@gmail.com,
or call +31(0)725120015 or +31(0)651995171

Thanks
Wullie Macmorland