HEBRIDEAN SALMON - €15.00

Huisgerookte Schotse zalm met een dillesaus en kaviaar

Home smoked Scottish salmon with dill sauce and caviar



CALEDONIAN PATE - €14.00

Schotse paté met cumberland saus
Het allereerste gerecht dat Wullie in zijn loopbaan
als kok heeft gemaakt, bijna 50 jaar geleden

A real scottish patè with
cumberland saus
The very first dish that Wullie learned to make
as a trainee chef, almost 50 years ago



SCOTCH EGG - €14,00

Gekruid rund- en gevogeltegehakt,
gevuld met een gekookt ei.
Gerold in haver & gebakken, geserveerd met een komkommer/tomaatsalade

Herby beef & poultry forcemeat, filled
with a boiled egg,
rolled in oatmeal & fried, served with a
tomato and cucumber salad


SCOTCH BREE - €8,00

Een dagelijks wisselende traditionele Schotse soep

Daily made traditional Scottish soup
HIELANDER APPLES - €12,75

Zoete appel, geitenkaas, honing en room,
warm geserveerd

Sweet apple, goats cheese, honey and cream,
served warm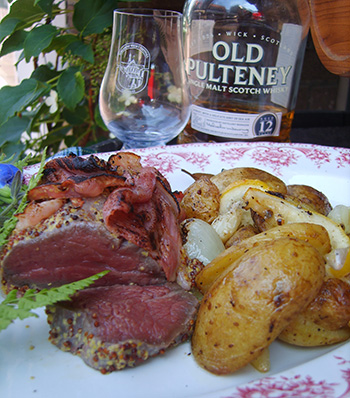 MAINCOURSES


SPEYSIDE VENISON - €28.50

Wilde schotse hertenbiefstuk,
rose gebraden & geserveerd met
een rode uien marmalade

Wild Scottish venison steak, served medium rare with a red onion marmalade


HIGHLAND CHICKEN - €26.00

Grote kipfilet gevuld met huisgerookte zalm, in haver gerold, gebakken en geserveerd met een bieslook/roomsaus

Breast of chicken filled with home smoked salmon, rolled in oatmeal & fried, served with a creamy chive sauce


DEESIDE SALMON - €25.00

Warm gerookte zalmfilet, geserveerd met een groene tuinkruidensaus

Hot smoked salmon fillet, served with a garden
herb-butter sauce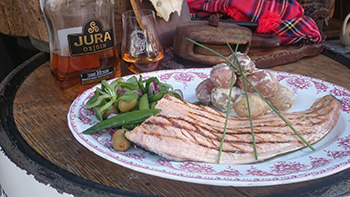 HAGGIS - €24.50

Het Schotse nationale gerecht, beroemd en berucht!
Stevig en pittig gekruid, durf je het aan?

The Scots national dish, famous & infamous!
Very filling and spicy, are you ready for it?
A haggis is a small animal native to Scotland. Well when I say animal, actually it's a bird with vestigial wings - like the ostrich. Because the habitat of the haggis in exclusively mountainous, and because it is always found on the sides of Scottish mountains, it has evolved a rather strange gait. The poor thing has only three legs, and each leg is a different length - the result of this is that when hunting haggis, you must get them on to a flat plain - then they are very easy to catch - they can only
run round in circles.
After catching your haggis, and dispatching it in time honoured fashion, it is cooked in boiling water, then served with tatties and neeps (and before you ask, that's potatoes and turnips).
Many other countries have tried to establish breeding colonies of haggis, but to no avail - it's something about the air and water in Scotland, which once the haggis is removed from that environment, they just pine away. The largest known recorded wild haggis (caught in 1893 by a crofter at the base of Ben Lomond), weighed 25 tons. The three legs are a product of evolution, and this explains the logistic problems of bringing two haggis together - after all, sure footed though the beast is, if two were to mate on a Scottish hillside, it is a long fall down, and a slip at the wrong time may very well result in a reduction by two of the total haggis population.
What is known about Haggis breeding is that, several days prior to giving birth, the Haggis make a droning sound - very much like a beginner playing the bagpipes for the first time - giving rise to the speculation that the bagpipes were indeed invented in Scotland, simply to lure unsuspecting haggis into a trap. At the onset of this noise, all other wildlife for a five mile radius can be seen exiting the area at an extremely high rate of knots (wouldn't you if your neighbour had just started to play the bagpipes?).

This tale is the complete and honest Gods truth, or as a (in)famous woman
prime-minister of the UK once said:
'I never lie, I am only sometimes
economic with the truth!'

Wullie